Pixelsword

"A nice work done at Paint"
Type
Sword
Sub Type
Swing
Damage
16
Critical Chance
4%
Speed
Average
Knockback
Average
Dropped by
Unknown
Crafting
Crafted with
Unknown
Crafted on
Unknown
The Pixel Sword is a weapon which you can buy from the merchant after getting 15 000-20 000 points in the Arcade Dungeon.
This item was remade in N6, with a new sprite and different stats. " Dropped from a green slime in N6 "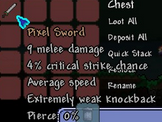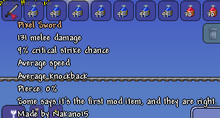 Ad blocker interference detected!
Wikia is a free-to-use site that makes money from advertising. We have a modified experience for viewers using ad blockers

Wikia is not accessible if you've made further modifications. Remove the custom ad blocker rule(s) and the page will load as expected.