Info
This set gives a huge bonus to damage, on the cost of defense. The set bonus gives a boost to Phaseblade-type weapons (Phase Rapier, Phaseblade, Phasesaber).
Mask
Phaseblade Fighter Mask



Defense:

+11%

Bonus:

15% increased melee and magic damage

Automatically uses mana when depleted

Dropped:

Jungle (Reverse Realm)
Phaseblade Fighter Breastplate



Defense:

16

Bonus:

10% increased melee and magic damage

10% increased critical strike chance

Dropped:
Phaseblade Fighter Pants



Defense:

+11%

Bonus:

Increase maximum mana by 100

20% increased movement and melee speed

Dropped:

Jungle (Reverse Realm)
The Phaseblade Fighter Mask gives automatic mana refill if you have mana potions, which does not really do anything as a fighter, since you don't use mana a lot. Although the 11% defense and 15% increased melee damage is really nice to have as a high DPS dealer.

Breastplate
The chest piece of the Phaseblade Fighter armor set is really good for a fighter because of the good defense and increased melee damage and critical strike chance.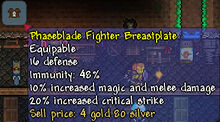 Pants
The 100 increased maximum mana it a really unneccesary bonus for a fighter, but 20% increased speed is very good.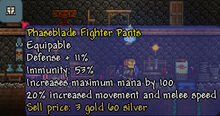 Ad blocker interference detected!
Wikia is a free-to-use site that makes money from advertising. We have a modified experience for viewers using ad blockers

Wikia is not accessible if you've made further modifications. Remove the custom ad blocker rule(s) and the page will load as expected.