Phase Rapiers

No Caption.
Type
Unknown
Sub Type
Unknown
Damage
Unknown
Critical Chance
Unknown
Speed
Unknown
Knockback
Unknown
Dropped by
Crafting
Crafted with
Unknown
Crafted on
Unknown
Phase Rapiers can be made if your character has a Phasesaber on the inventory, it can be toggled anytime into a phase rapier or phasesaber.
The only difference,is that the Phase Rapiers is for stabbing,and the Phasesabers for general attacking.
It is basically a large shortsword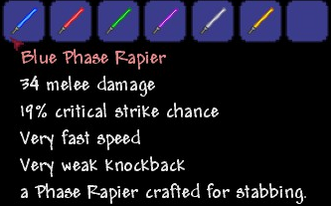 Ad blocker interference detected!
Wikia is a free-to-use site that makes money from advertising. We have a modified experience for viewers using ad blockers

Wikia is not accessible if you've made further modifications. Remove the custom ad blocker rule(s) and the page will load as expected.