Info
Golem Head



Level:

115

HP:

604 998 (1st Form)
N/A (2nd Form)

Damage:

2022 (1st Form)
2538 (2nd Form)

Defense:

631 (1st Form)
N/A (2nd Form)
The Golem consists of it's body, head and his two fists. The body can only be damaged after the head has been killed. You can fight Golem only after you defeat Plantera and get the Temple Key. The Temple Key is a guaranteed drop from Plantera. To summon the golem, you need a Lihzahrd Power Cell and a Lihzahrd Altar, both can be found in the Lihzahrd Temple.
Summoning this boss will consume 1 Power Cell, but the altar will remain where ever you place it.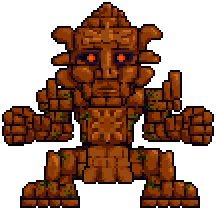 Golem Body



Level:

115

HP:

N/A (1st Form)
340 311 (2nd Form)

Damage:

2275

Defense:

N/A (1st Form)
821 (2nd Form)
Golem Fist



Level:

115

HP:

264 686 (Per hand)

Damage:

1 864

Defense:

884
Ad blocker interference detected!
Wikia is a free-to-use site that makes money from advertising. We have a modified experience for viewers using ad blockers

Wikia is not accessible if you've made further modifications. Remove the custom ad blocker rule(s) and the page will load as expected.