Colt

No Caption.
Type
Ranged Weapon
Sub Type
Pistol
Damage
50
Critical Chance
7%
Speed
Snail
Knockback
Extremely Strong
Dropped by
N/A
Crafting
Crafted with

Handgun
3 Diamonds
Musket

Crafted on
Anvil
A black-death pistol used for sniping, it is one of the strongest Ranged weapons in the mod, but also the slowest to use.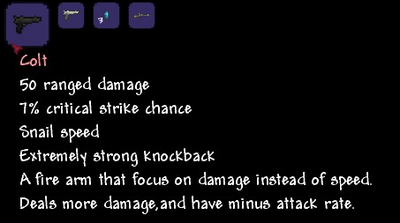 Ad blocker interference detected!
Wikia is a free-to-use site that makes money from advertising. We have a modified experience for viewers using ad blockers

Wikia is not accessible if you've made further modifications. Remove the custom ad blocker rule(s) and the page will load as expected.