Heavy Shuriken

No Caption.
Type
Ranged/Thrown Weapon
Sub Type
Shuriken
Damage
107
Critical Chance
47%
Speed
Very Fast
Knockback
Extremely Weak
Dropped by
Crafting
Crafted with
Unknown
Crafted on
Unknown
Heavy Shuriken. You can buy from Arms Dealer after achieving 10,000 points in the dungeon. It's a ranged weapon which acts like a Magic Missile-type weapon.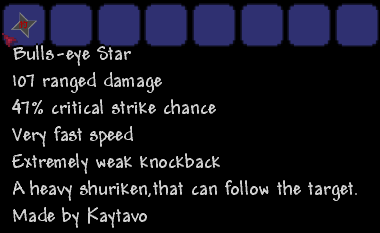 It most likely is not in NTerraria 5, though I am not sure about it.
Ad blocker interference detected!
Wikia is a free-to-use site that makes money from advertising. We have a modified experience for viewers using ad blockers

Wikia is not accessible if you've made further modifications. Remove the custom ad blocker rule(s) and the page will load as expected.